District Governor
George S. Fray
District 6150 Governor 2019-20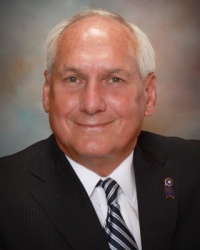 George S. Fray
District Governor 2019-20
George Fray joined the Heber Springs Rotary Club in January 1986 where he was the Hospital Administrator. He was the first PolioPlus Chairman for the club. George has remained passionate about Rotary's goal of Polio Eradication. He has two family members that survived polio, a cousin in Kennett, Missouri in 1951, and a nephew in Africa in 1961 where his parents were missionaries.
He has served his community on chamber and non-profit boards and is a member of the Paul Harris Society. He received his first Paul Harris in 1989. In 1995 he accepted an administrator position with Baptist Hospital in Memphis at the Forrest City hospital. He served as Treasurer, Secretary, Vice President, and President Elect of the Forrest City club. In 2000 he began working as the administrator of Ozark Health, and became a member of the Fairfield Bay Club. He became Vice President of St. Bernard's in Jonesboro in 2005, and then later joined the Lawrence Country Club and served as President. He served two years as an Assistant Governor and has been a Facilitator and Evaluator at PETS. He is currently serving as District Governor Elect for 2018-2019.
George is a graduate of Arkansas State University with a Bachelor's degree in Business and a Master's degree in Hospital Administration from Webster College. George retired in 2015 after working 40 years as a hospital administrator. He lives in Jonesboro with his wife of 45 years, Linda, who is a retired teacher. George and Linda have 3 adult children: Sarah is an LLC Mental Health Therapist with St. Bernard's, John is an Associate Athletic Director with the University of South Carolina System, and Ben who serves with the Peace Corp in Malawi. George has 2 grandchildren, Sydney and Spencer.