District Governor
Nancy Clowes Leonhardt
District 6150 Governor 2017-18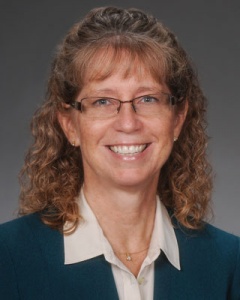 Nancy Clowes Leonhardt
District Governor 2017-18
Nancy began attending occasional Rotary meetings back in the early 1980's as a guest before women were allowed in. Her official membership did not begin until 2007 with the Rotary Club of West Little Rock. Nancy is a multiple Paul Harris Fellow and member of the Paul Harris Society. She received the New Rotarian of the Year Award in 2008, the Rotarian of the Year Award in 2009 and 2010, the District President of the Year Award in 2013, and the Governor's Award of Excellence in 2016. Nancy has served District 6150 as a member of the Youth Exchange Committee, District Trainer, 2015 Conference Chair, and Assistant Governor.

Nancy's favorite service project in her club is their work at Terry Elementary. The club supports a program or activity for each grade level, PreK through 5. She especially enjoys reading and distributing the "I Like Me" books to the kindergartners and reading Dr. Seuss books to the 2nd graders to celebrate his birthday.

Nancy received her Bachelor of Science in Urban and Regional Planning from California Polytechnic University, Pomona. After working as a land planning consultant, Nancy began work in the nonprofit sector and has worked for various nonprofits as Executive Director. She currently is Executive Director of Arkansas Literacy Councils, the network organization for 26 community based literacy councils that serve adult learners around the state of Arkansas.

A fourth generation native Californian, Nancy moved to Arkansas in 1999. She and her husband, Darrell, have been married for 34 years and have a son, Jason, married to Shannon, and daughter, Christina.